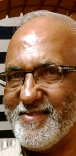 Prof. Jayagovindan Menon, Principal Consultant at Grantha Consulting, practices and teaches communication design. He is an alumnus of Central Saint Martins College of Art and Design, London. After over 25 years of a design career working with mainstream publishing and corporate communication, Menon shifted focus to design academics. He headed Communication Design at D J Academy of Design, Coimbatore between 2011-2018. Since then, he has been a senior visiting faculty to many premier design institutes in India.
Menon, during March 2007 to August 2008, set up Canto Corporate Systems - a start-up BPO venture based out of Chennai in financial documentation service for a UK-based company. The core tasks involved company incorporation; acquiring government approvals; banking; setting up infrastructure, power, systems and processes; managing vendors; branding and identity management; periodic recruitment of staff and running the firm as its Director - Operations. He left the services of Canto in August 2008 to rejoin Grantha.
Menon has served as a consultant design editor for Industrial Economist, a business magazine; taught typography & editorial design at Asian College of Journalism, University of Madras, SRM University and DJ Academy of Design; held design & typography seminars/talks at Anna University, J Walter Thompson (HTA) advertising and British Council. Interviews and articles about his work and design approach were published in The Hindu, New Indian Express, Business Line, Industrial Economist and Connect (British Council magazine).
Exhibitions of his work were held in London, Chennai and New Delhi, after successfully completing his full time Masters in Communication Design at Central Saint Martins College of Art and Design, London in December 2001 as a Charles Wallace Trust scholar.
Earlier, after completing a masters in economics (1981), Menon worked as economic journalist at Industrial Economist (3 years), Design & Production Editor at Macmillan Publishers (11 years), Manager - Design &Development at Sanka Graphics (5 years) and as Project Leader of multimedia division at Vertex Systems (one year).
A keen photographer, Menon won the all India Kodak Award(1988) for Excellence in Photography, 1987. Over hundred cartoons are to his credit, published in The Hindu (literary review) and Madras Musings. Many of his works won nominations and awards — at the Ad Club Spark Awards; All India Association of Business Communicators' annual awards; and the Federation of Indian Publishers' annual awards for excellence in book production.
Menon is married to Meera, and has two children – Tulasi and Krishna.